The Client wallet already has a bitbay.conf file that can be found in your BitBay directory inside the bitbaydata folder
Default bitbay data folder locations
windows client C:\BitBay\bitbaydata
windows QT client c:\Users\YOURUSERNAME\appdata\roaming\bitbay
linux QT client ~/.bitbay
mac QT client ~/Library/Application Support/BitBay
If you are still having trouble connecting to the network with the Client, then you can update the addnode list from the block explorer.
https://chainz.cryptoid.info/bay/#!network
Click on the 'node list' from BitBay 2.0.0 and copy and paste those 'fresh' nodes to your bitbay.conf file (replacing the old addnodes) then save the file.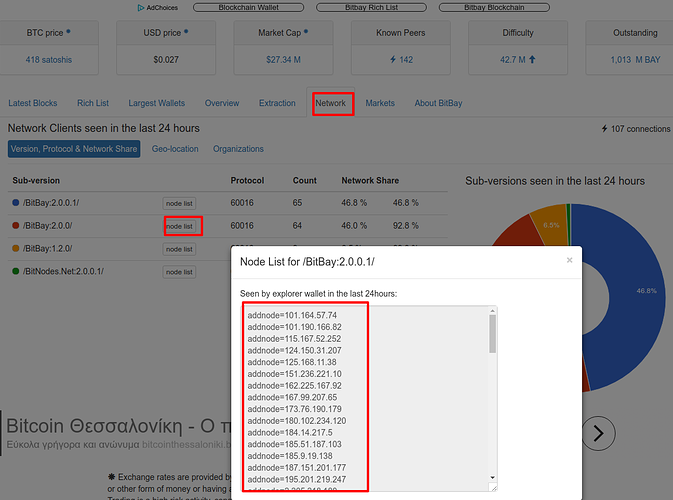 ---
The QT wallet doesn't come with a bitbay.conf file by default. You have to add it manually.
You can do this with a text editor.
Copy this text (below) into a text editor and then add the nodes from the instructions above to have a fresh list of nodes connected to the network The final configuration file should look something like this:
server=1
rpcuser=bitbayrpc
rpcpassword=4c80db0bfc751aaadba16bb8ed2c9f050d00952b476b83cc96e24909c06625b3
rpcport=19915
addnode=106.68.83.218
addnode=107.218.48.181
addnode=108.241.58.211
addnode=108.248.114.128
addnode=108.61.163.182
addnode=109.192.193.55
addnode=110.140.10.208
addnode=110.140.113.210
addnode=111.61.66.8
addnode=112.134.181.123
addnode=112.134.181.150
addnode=112.134.181.158
addnode=112.134.196.39
addnode=115.189.83.223
addnode=115.189.87.4
addnode=123.231.121.218
addnode=131.217.255.204
addnode=134.146.0.4
addnode=134.17.133.106
addnode=139.195.109.233
addnode=143.159.89.215
addnode=145.130.170.169
addnode=146.199.80.250
addnode=151.80.186.24
addnode=165.227.101.30
addnode=172.116.88.221
addnode=173.244.48.20
addnode=173.245.67.21
addnode=173.52.218.100
addnode=174.24.225.141
addnode=174.50.118.218
addnode=174.87.230.250
addnode=176.150.146.190
addnode=176.250.209.173
addnode=178.190.17.123
addnode=178.63.60.137
addnode=178.78.92.212
addnode=180.191.81.79
addnode=180.230.181.176
addnode=183.197.36.121
addnode=185.34.230.143
addnode=188.113.196.196
addnode=188.113.202.168
addnode=188.113.206.224
addnode=188.138.200.113
addnode=188.241.58.126
addnode=195.181.242.206
addnode=196.54.41.17
addnode=196.54.41.27
addnode=196.54.41.32
addnode=196.54.41.4
addnode=196.54.41.49
addnode=196.54.41.53
addnode=199.167.137.82
addnode=199.66.91.231
addnode=2.84.121.244
addnode=201.166.110.82
addnode=202.51.88.8
addnode=203.220.93.76
addnode=203.247.211.83
addnode=206.231.121.84
addnode=208.157.168.106
addnode=212.251.180.141
addnode=213.152.161.117
addnode=213.226.252.11
addnode=213.87.126.131
addnode=217.101.38.151
addnode=217.121.104.80
addnode=219.249.42.189
addnode=219.75.59.105
addnode=222.99.69.142
addnode=223.73.234.222
addnode=24.18.144.218
addnode=24.48.51.217
addnode=24.96.192.15
addnode=31.35.224.182
addnode=35.176.20.98
addnode=36.84.29.113
addnode=36.84.29.84
addnode=37.201.224.31
addnode=37.33.66.123
addnode=37.48.116.236
addnode=39.109.134.176
addnode=40.112.149.192
addnode=45.32.49.83
addnode=45.33.105.195
addnode=46.10.119.50
addnode=46.10.13.19
addnode=46.125.41.60
addnode=46.4.37.190
addnode=47.11.11.183
addnode=47.11.13.46
addnode=47.11.14.72
addnode=47.11.5.54
addnode=47.62.147.11
addnode=47.89.188.41
addnode=5.147.42.220
addnode=5.148.127.94
addnode=5.80.197.123
addnode=50.192.87.174
addnode=50.41.196.34
addnode=61.43.49.2
addnode=62.116.48.97
addnode=62.96.91.202
Save this bitbay.conf file to bitbay data folder mentioned above