BitBay's Decentralized Voting UI marks yet another amazing milestone for the most advanced cryptocurrency wallet on the planet. Today we announce the first Voting Poll to decide whether to fork to correct the BAY Staking reward as soon as possible or wait for the next scheduled fork.
If you would like to participate in this historic event, you still have time to download and install the Client. All Clients must be 100% synchronized. In order to Stake/Vote you must be holding coins in the Client. Say goodbye to political centralized gridlock! This is the first official voting poll for the BitBay community. There will be many more to come as the coin continues to place itself above the competition as the most advanced cryptocurrency wallet in existence.
As some may already know, when David upgraded the BitBay Staking protocol from POS 2.0 to POS 3.0, he made the innocent mistake of adjusting the coin's interest rate return to the incorrect amount. After this small glitch was found, David came to conclusion he would simply correct the Staking reward when BitBay is scheduled to fork for the implementation of the Dynamic Peg technology, scheduled later this year. With the recent rise in price and substantial boost in community interest, more and more people are voicing their desire to fix this glitch now rather than wait.
To be fair to all and remain true to a decentralized protocol, BitBay will host an official Voting Poll starting Saturday, 04/01/2017 at 7:00 AM UTC and ending on Tuesday, 04/04/2017 at 7:00 AM UTC. Only votes submitted on blocks in that timeframe will be counted. Anyone with coins can vote, as long as they have the Client installed and synchronized; the more coins you have stored on your Client the stronger your voting power becomes as all votes attach themselves to staked block rewards. Within the Client simply go to:
Settings (tab) -> General Settings (dropdown menu) -> Mining/Staking and Voting (tab)
In this window click on Add Vote button and enter:
stakefork (for the stake reward to be adjusted as a priority)
nostakefork (to wait until the dynamic peg fork to adjust reward)
Please note: use all lower case letters. Votes are case sensitive.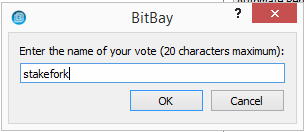 The Client will then ask you how many times you wish to vote. All votes cost 0.000005554 BAY. Enter the desired amount of votes to cast and you are complete. Remember your Client must be staking in order to cast votes. Votes do not immediately tally into the system. Once you've cast your total votes you wish to add, these votes will attach themselves to any future blocks you find while your Client stakes. You must keep you Client open and staking in order for it to continue to add votes to your choice. You will be able to count the votes applied to each option by clicking on the Count Vote option in that same window. Make a mental note of which block starts and ends in that timeframe of the vote to see the most accurate count, or you can use the blockchain explorer to track everyone's votes, as all votes are transferred to a burn address on the blockchain.
Download the Client now and prepare to vote!
If you are new to BitBay, please feel free to come join the community in BitBay's Slack!