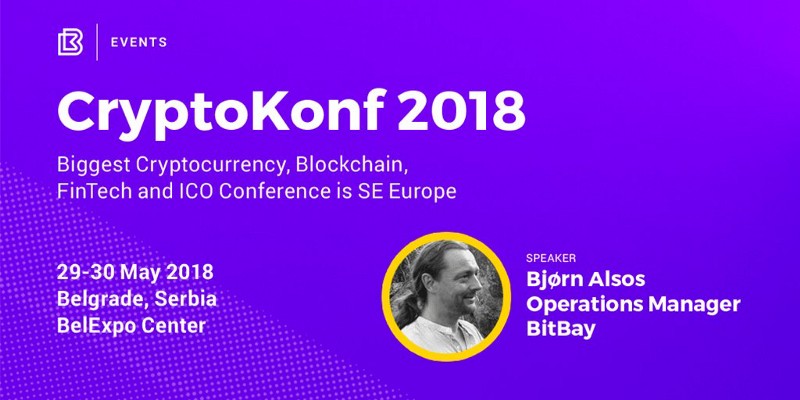 Cryptokonf — the largest cryptocurrency and blockchain conference in eastern Europe — was an absolute success. The conference included 2 fully-loaded days of informational lectures, workshops, and a gala dinner for those in attendance. Over 27 experts from all over the world (including BitBays operations manager Bjorn Alsos) came to discuss current industry related issues and their associated solutions.
As the second speaker to come up on stage, Bjorn discussed the topic of "Solving the last mile" — the removal of middlemen in developing countries with BitBays decentralized markets. This is one of BitBay's core use-cases, which effectively allows smaller third-world countries to finally participate in the global economy.
From Bjorn's speech:
"What if there was a platform that allowed people to be their own bank, and run their own completely independent business without paying 3rd party fees, all from the palm of their hand?
This is what we are solving with decentralized markets, real problems from the real world.
"Now, most of you have probably heard the word 'decentralization' before. While some might see it as an overused term by now, the meaning of it is extremely important to people living in developing regions.
To them, it means freedom.
With decentralized markets, anyone has the freedom to be their own bank, lender or merchant — all without having to rely on identification or a middleman to facilitate transactions or prevent them from doing business in the first place. Everything is strictly peer-to-peer."
Bjorn went on to discuss other fundamental advantages of eliminating middlemen in the world of business, in addition to some important characteristics a decentralized marketplace must possess in order to truly be disruptive. These characteristics include decentralization, security, currency stability (BitBays dynamic peg), and mobility.
All in all, Cryptokonf served as the perfect arena to strengthen our networking, build BitBay's brand identity, and build relationships with investors. We are excited to attend more conferences and events in the future, stay tuned for more updates!
Curious about BitBay and all our platform has to offer?

Have questions? Need support? Want to chat with a BitBay team member?
Feel free to join our rapidly growing community of users on our forum, here.
Also, check out our roadmap for more exciting things coming soon!