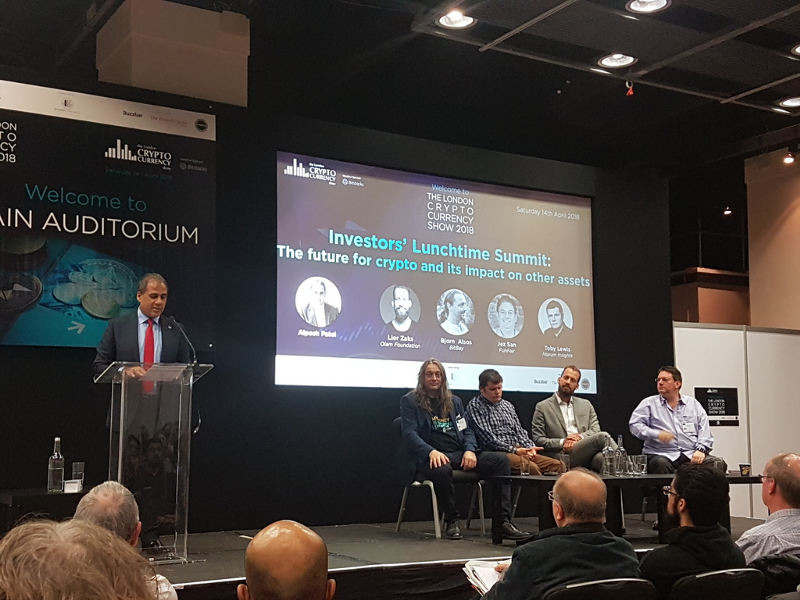 Opening the panel discussion, Alpesh Patel instantly created a warm connection with those in the crowd who were new to the cryptocurrency space. He showed that even with his extensive experience of managing hedge funds within the finance industry, there is still a massive learning curve for everyone. It was both a conversation with the Bank of England governor and the realization of cryptocurrencies' broad applications that sparked his journey into this industry.
"If a big institution is looking at something which we're all told is "high risk", there's alot that the newspapers aren't necessarily telling us" — Alpesh Patel
The first to speak was Bjorn Alsos from BitBay. BitBay is a smart-contracting platform that released the world's first functional decentralized marketplace. The BitBay project has a strong focus on security, unbreakable contracts, and stablecoin technology. Bjorn's talk centered around the disruptive potential for cryptocurrencies, and the associated factors that are both driving and hindering mainstream adoption. These points of value are directed toward long-term investors as opposed to day traders.
"We have had an increasing distrust in institutions which we trusted blindly before… If it's disruptive, then it has to be valuable. Eliminating the middleman, now that's quite amazing." -Bjorn Alsos
The second speaker on the panel was Toby Lewis from Novum Insights. Novum Insights is a global market monitor of complex technologies. Novum Insights unpicks the sub-sectors that use the latest thinking in Blockchain, Cybersecurity, AI and IoT, with a database of ICO's. Toby's deep understanding of current market conditions and his involvement with big money institutions provided a unique perspective for those in attendance. He pointed out that while many people see the crypto industry as a "mania", there are still big banks and policy-makers who are quietly aware of its true potential. In addition, his insight on the explosion of ICOs helped bring clarity to investors.
"All of these ICO's have been driven by Ethereum, which is underpinning the current market conditions we're seeing right now." -Toby Lewis
Next to speak on the panel, was Lior Zaks from the Olam Foundation. The Olam Foundation (nonprofit) offers a new approach for supply chain leaders by providing a decentralized infrastructure on which all stakeholders can communicate, share data, and provide services. Lior is an industry veteran, been involved with cryptocurrencies since 2010. His speech focused on the challenges that the current supply chain industry faces, and how blockchain can offer solutions.
"We need to make things that are innovative and leading industries into their next generation. This is an evolution." — Lior Zaks
Last to speak, was Jez San with FunFair Technologies. FunFair Technologies provides blockchain-powered solutions, with the potential to profoundly change the online gaming industry for both the operator and player. Founded in 2017, the goal of FunFair is create a fair and neutral playing structure for online gaming and casinos. Jez has been in the Cryptocurrency space since 2013, and provided the audience with a keen understanding of blockchain scalability solutions.
"Smart contracts and programmable blockchains are significantly better than blockchains that just move money around." — Jez San
After the discussion, Alpesh opened the floor for an audience Q&A. The speakers discussed various investment strategies, project recommendations, and where the industry is headed.
To watch the recorded panel discussion and following Q&A session, see the full video here.